Fill Up Before Prices Go Up!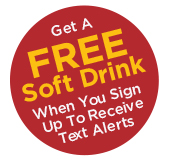 Want to know when gas prices are low? Sign up for our United Express Fuel Text Alerts and we'll help you save money at the pump! Visit your local UE station and ask for the keyword or follow the instructions below to start saving today. Once you've confirmed your request to sign up, you'll receive a special code to receive a FREE fountain drink of your choice*.
Step by Step How To Sign Up for Fuel Text Alerts
Grab your cell phone

Choose text

In the "To:" field type in the phone number 43300.

In the message area type in your local keyword (See the list of keywords below)

Then hit send
When you've confirmed your request to receive text messages, you'll get a free code for a fountain drink of your choice. *You can only sign up for fuel text alerts for one city location.
Fuel Text City Keywords
UEAbilene

UEAmarillo

UEBrownwood

UEBorger

UECanyon

UECoppell

UEDumas

UEFrisco

UEHereford

UELevelland

UELubbock

UEMcKinney

UEMuleshoe

UEPampa

UEPlainview

UERoswell

UESlaton

UESnyder

UEWichita
*Fuel text alerts are limited to one location per number. Please visit your local United Express station to find out which keyword to use so you can start receiving alerts. Fountain drink promo only applied to participating locations.