A Pleasant Little Kitchen Recipes
Meet our recipe contributor, Rebecca White, of A Pleasant Little Kitchen. She's a self-taught cook, who through trial and error, has discovered what a treasure tasty and creative home-cooked food can be. Rebecca is a wife, mama and historian who delights in grocery shopping, reading food articles, talking about food and testing new recipes.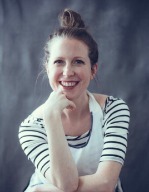 Visit her full blog or find out more about her here.
---
Loaded Fries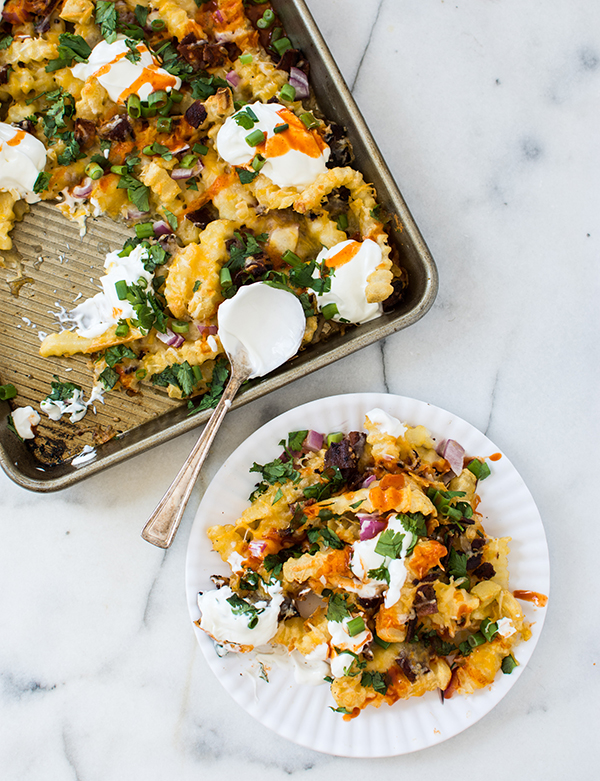 Serves 4-6
Author note: Be creative with toppings for these fries. Guacamole, pimento cheese, brown gravy or fried onion strings could also be decadent toppers. If serving a crowd, set up a bar of toppings and let each guest decide how they want to top their french fries. There are no measurements listed on the amount of cheese to give you the flexibility to add as much as you would like.
Ingredients:
1 bag frozen Signature Kitchens Crinkle Cut French Fries
Lucerne shredded cheese
1 package of bacon, fried and chopped
1/2 red onion, diced
Lucerne sour cream
1 bundle of green onions, chopped
1/2 bundle of cilantro, chopped
hot sauce
Directions:
1) Cook the french fries according to the instructions on the back of the package (about 35 minutes at 425 degrees).
2) Once the fries are cooked, lower the oven to 400 degrees and top the fries with a generous amount of cheese, bacon and red onions.
3) Place back into the oven until the cheese is melted. Finish the fries with dollops of sour cream, green onions, cilantro and hot sauce.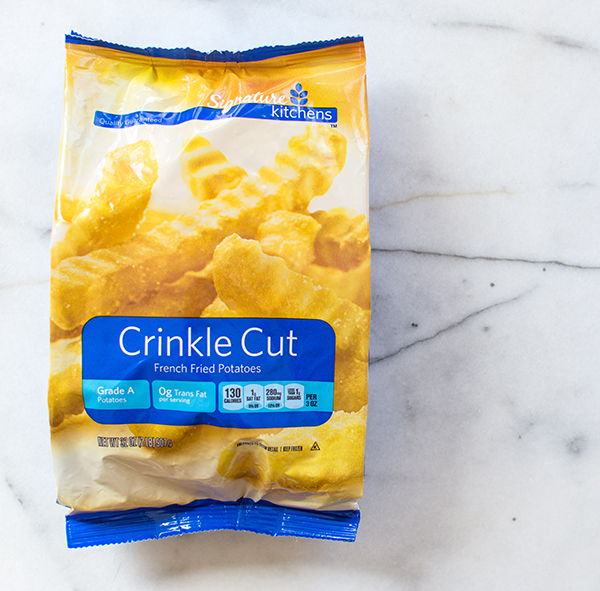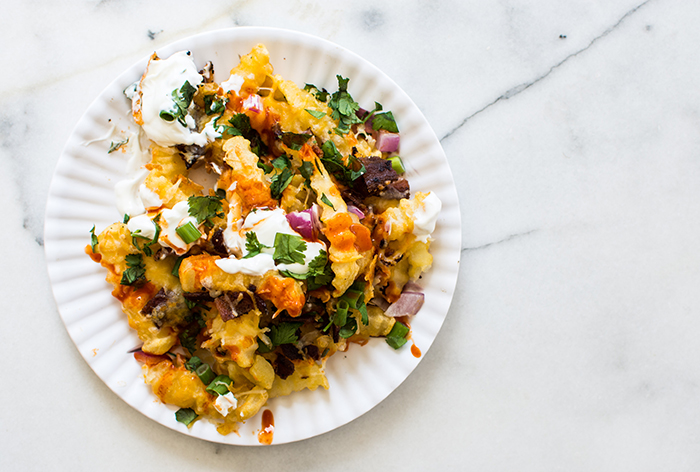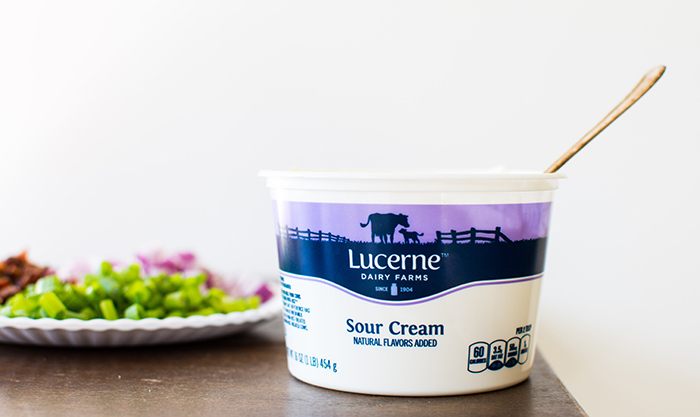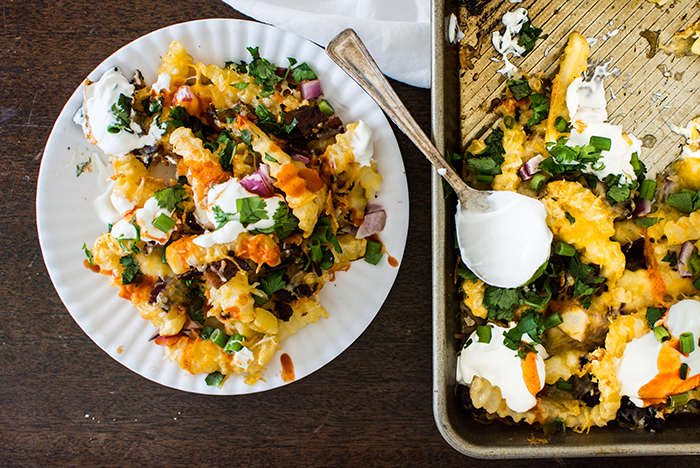 ---
Black Beans and Rice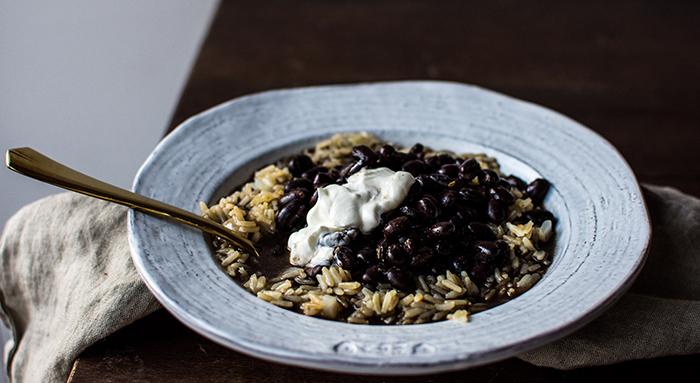 Author note: This meal can be prepared in about 15 minutes. There is only one item to chop, which is half an onion. United's pre-made guacamole or pico de gallo from the Fresh Cut section are excellent additions to this quick weeknight meal. Serve with tortilla chips or in a flour tortilla.
Ingredients:
For the Beans
3 cans black beans
1 cup water
1/2 teaspoon garlic powder
1/2 teaspoon oregano
1 teaspoon chili powder
1 1/2 teaspoons kosher salt
2 teaspoons ground cumin
1 cup water
cooked rice (see recipe below)
sour cream, for topping
Directions:
1) Place all ingredients into a sauce pan (except cooked rice and sour cream), stir and bring to a simmer. Let simmer gently for about 15 minutes.
2) Serve over rice, topped with sour cream.
Ingredients:
For the Rice
2 tablespoons unsalted butter
1/2 of 1 onion, diced
1 14 ounce box of instant brown rice
3 1/4 cup low sodium chicken stock
3/4 teaspoon kosher salt
Directions:
1) Melt the butter in a saucepan and then add the onion. Cook over medium heat until the onion is soft, about 5 minutes.
2) Add the instant rice into the pan. Stir to coat with butter.
3) Add the chicken stock and salt, bring to a boil. Cover and reduce heat to a simmer. Cook until rice is tender, about 10-12 minutes.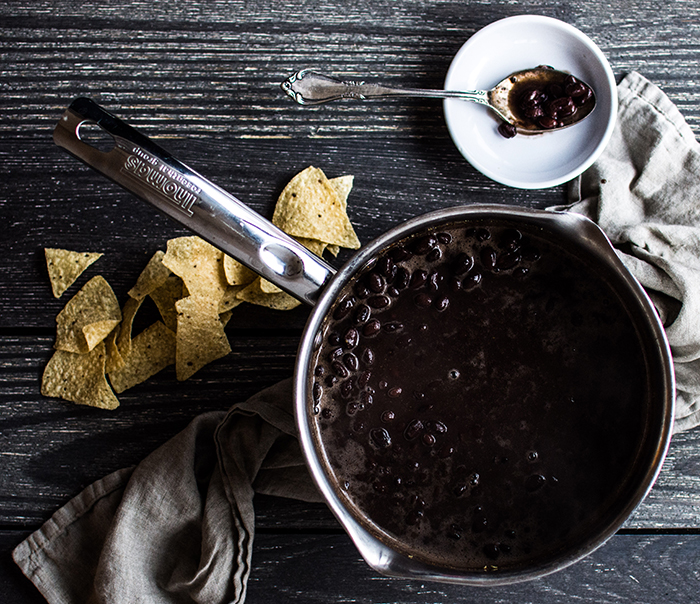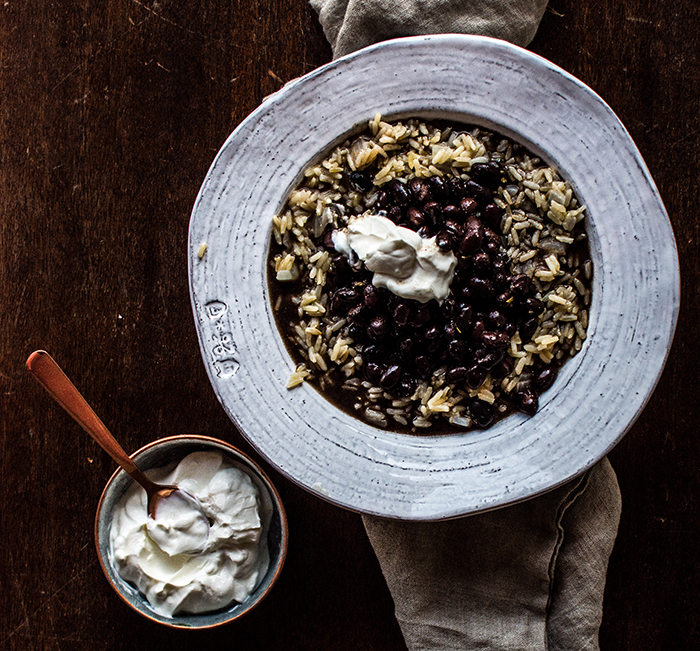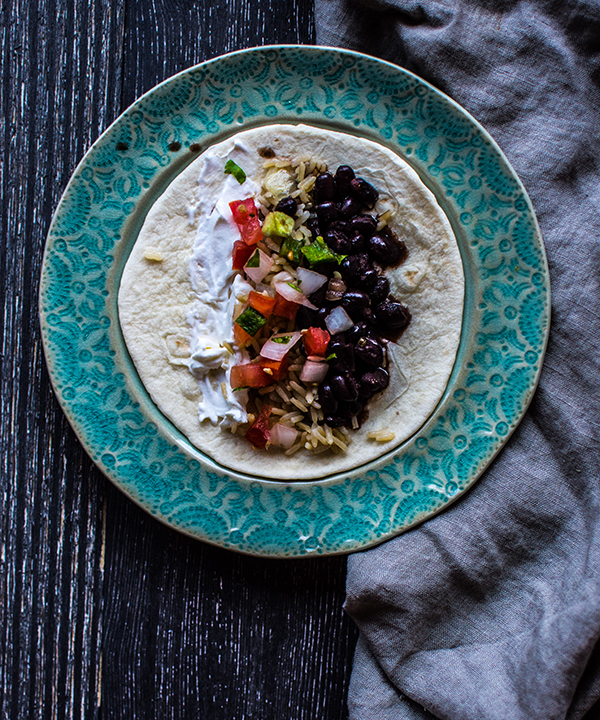 ---
Mini Peppermint Pancake Muffins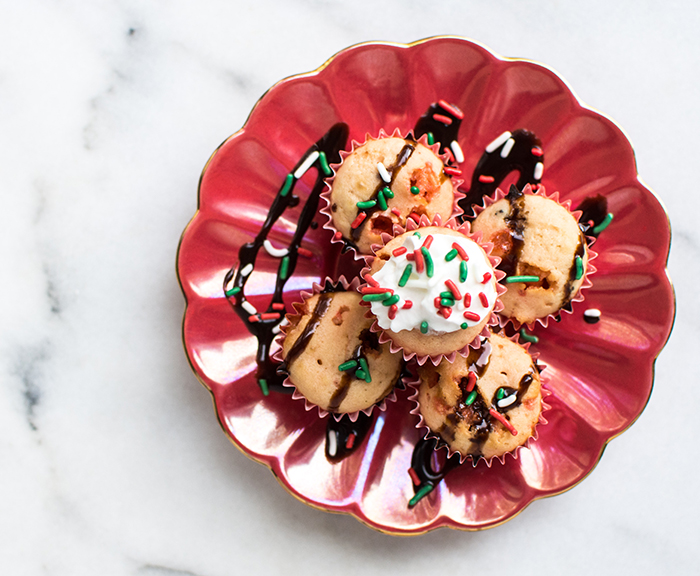 Author note: To make these mini pancake muffins a bit more "minty" add a drop of peppermint extract to the batter.
Ingredients:
3/4 cup candy canes, crushed (about 7-8 candy canes)
2 cups pancake batter (use your favorite mix)
cooking spray
chocolate syrup, for topping
maple syrup, for topping
whipped cream, for topping
sprinkles, for topping
Directions:
1) Heat the oven to 400 degrees.
2) Add the crushed candy canes to the pancake batter. Mix well.
3) Coat mini muffin tins with cooking spray. Fill the tins about 2/3 of the way.
4) Place in the oven and bake for 11-12 minutes, or until golden on the edges.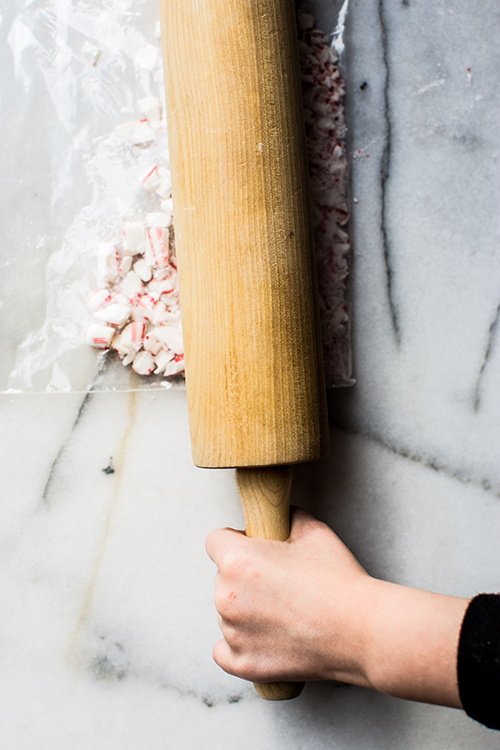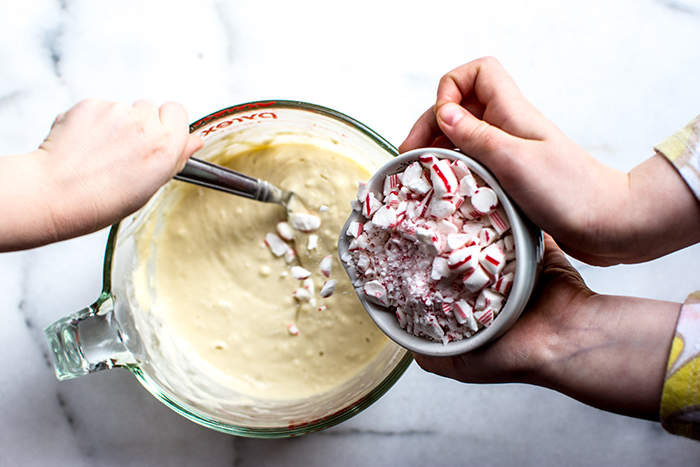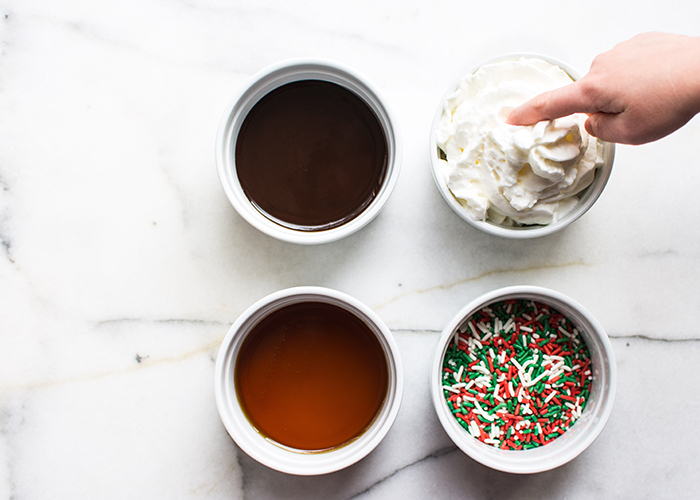 ---
Pork Sugo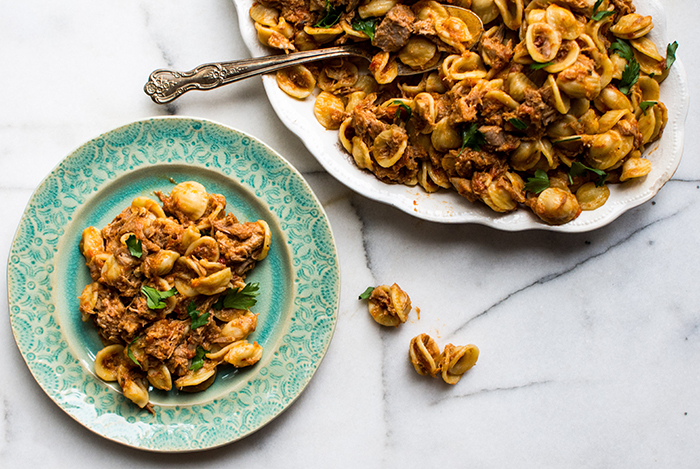 Author note: If you do not have a large enough pan to brown the whole pork shoulder, cut the pork into 4 pieces. Brown in two batches. This recipe makes a ton and will feed a very large crowd. You can also use the meat in sandwiches, tacos or nachos. This recipe is freezer friendly.
Ingredients:
3 tablespoons extra-virgin olive oil
5 teaspoons kosher salt
7 pounds bone-in Smithfield pork shoulder
2 28 ounce cans whole tomatoes
1 1/2 cups dry white wine (I prefer Pinot Grigio)
1 cup heavy cream
1 onion, diced
2 carrots, diced
2 celery stalks, diced
4 garlic cloves, crushed
5 thyme sprigs, tied with kitchen twine
fresh chopped parsley to top
Directions:
1) Heat the oven to 325 degrees.
2) Heat the oil in a large Dutch oven, over medium high heat.
3) Evenly cover the pork with 3 teaspoons of salt. Add the pork to the pan brown for 8 minutes. (3 minutes per larger sides, 1 minute per smaller sides).
4) Remove the pork and set aside. Reduce heat to medium.
5) Add garlic, onion, carrots and celery to the pan. Stir well and scrape up any browned bits. Cook for 5 minutes.
6) Add the wine and continue to cook for 5 minutes.
7) Add tomatoes, cream, thyme, 2 teaspoons salt and pork shoulder. Bring the sauce to a simmer. Cover, place in the oven and cook for 3 hours.
8) Remove the pan from the oven and place on the stovetop. Remove the pork and place on a plastic cutting board. Let cool for 10 minutes and then shred.
9) Simmer the tomato sauce for 20-30 minutes. Add the shredded pork back into the tomato sauce and stir well.
10) Serve on top of pasta or gnocchi.
---